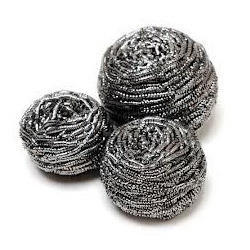 As per the Indian taste buds go, heavy oil and spices play an important role in cooking ingredients. Therefore greasy cooking utensils with cooked spice deposition is a common everyday story, almost in every kitchen. These utensils need a great force and rub to get cleaned, which happens to be a quite hard job. In this scenario, steel scrubbers play a crucial role in the neat cleaning of the utensils.

These dish and utensil washing tools, steel scrubbers are very helpful in cleaning tough dirt from the surface of the utensils which cannot be easily removed by using detergents alone. It acts as an immensely important item that helps in decontaminating and cleaning any kind of utensil surface effectively. Various manufacturers and suppliers of steel scrubbers distribute this small yet very helpful commodity to every retail store in our country.
Features

Wholesale steel scrubber in Punjab ensures premium quality steel scrubber to their customers. These heavy washing tools are not only used for domestic purposes, but also in commercial places, such as cleaning the machinery. It is widely opted for its easy and hassle free cleaning which is a lot more convenient than cleaning with bare hands. These scrubbers are accounted for tough cleaning yet, these cleaning tools are quite soft to touch so that the skin of the hands don't get scratched.

These scrubbing spheres are bright to look at and it doesn't hurt the hands, also it does not provide scratch to the utensils as well. These steel scrubbers are easily rinsed and can be dried quickly in no time. These scrubbers are therefore anti-bacterial, anti-mildew and cannot be broken easily.

The steel scrubbers also possess the feature of being scratch proof and non stick. Also, these steel scrubbers are 100 per cent resistant to rust and also they are quite eco friendly. Hence these scrubbers can be reused repeatedly and be continued for quite a long time. The suppliers of the steel scrubbers offer this product in various packaging so that the customer can avail these steel scrubbers according to their need.

Uses

The steel scrubbers are an excellent helper for the housekeeper. It can very easily take off stubborn dirt without hurting the hands of the users. The stainless steel scrubbers are used on surfaces of different materials like porcelain, glass items, metal and even marble.

These steel scrubbers are used for cleaning the stainless steel utensils, oven tops, Barbeque machines etc. in a domestic kitchen. These scrubbers can be also used for sanitary cleanings, such as cleaning toilet bowls, scum accumulated in the shower and tap holes etc. Scrubbers are also a help for cleaning the garden tools.

Conclusion

There are many existing and newly emerging companies in India that are engaged as wholesale suppliers and traders of premium quality steel scrubbers. There are different sized packing done for the convenience of the buyers, such as a pack of 1, pack of 3, pack of 6, pack of 12 and pack of 20. These traders claim about products made of superior quality raw materials.

These suppliers and traders serve a prompt delivery service to their clients. Similarly, through their extensive marketing policies, these traders have created a huge domestic client base.
This entry was posted on August, 21, 2021 at 14 : 19 pm and is filed under Steel Scrubber. You can follow any responses to this entry through the RSS 2.0 feed. You can leave a response from your own site.